Affiliate marketing is definitely one of the fastest growing businesses on the internet today. Dozens of new websites are published every single day.
There was very low competition, for example, ten years ago. People who started their businesses back then, are now making six figures every month, or even more! Now it's harder to find your place in the market. Ten years from now it will be much harder (if not almost impossible) to compete.
I suggest to all my readers to at least try it. Most people just now starting to realize how much blogs can really help them. This is a huge opportunity – who knows, maybe ten years from now you'll be a millionaire! Remember, anything is possible if you believe! But this belief is stupid if you're just watching TV and believe that one day you'll become rich. YOU HAVE TO TAKE ACTION!
If you don't know what affiliate marketing is, I suggest you read the previous post: What Is Affiliate Marketing?
So You Decided To Try
Of course, at this point you probably have a lot of questions – "Where do I need to start? What skills should I have? What exactly do I need to do to make money? How much can I actually earn?" and so on.
Don't worry, I'm 19 years old, English is my second language and when I started (about a year ago) I had absolutely no Idea what affiliate marketing is… Yet I'm almost making a full-time income online, so you can as well!
At first sight, it looks complicated, but the answers to all these questions actually are just a common sense. I just want you to understand, that every successful person had to start somewhere, and they definitely didn't had all the knowledge and skills they have now.
Speaking about affiliate marketing, the first thing you need to do is to choose your niche. In the previous post I wrote, that the first thing you need is your website, but probably more rational decision would be to start from the niche.
Don't put too much thought into it, just pick anything you like (fashion, sport, cars, watches, vacations etc.). When starting a business It's important to test yourself – your first niche probably won't be your last
Earning money online shouldn't feel like a regular boring job which you hate. It should be fun. And the best thing is, that you have the opportunity to make it fun by choosing something you love!
When choosing a niche, ideally you want to choose your passion, hobby or a subject that you're familiar with. Something you can talk about and want to learn about. I'm sure that even the laziest fool on earth has something that he likes.
It could be anything, there's no such thing as the wrong niche. There are billions of people looking for information online every day, and every single person is interested in hundreds of different things!
Needless to say that those things can often be very unexpected and surprising. Very often what seems to be the smallest thing, that at first sight no one's interested in, becomes a full-time business!
Creation Of a Website
When you have your niche chosen, the next thing to do is to create your own website. I've tried several website creation platforms in the past and most of them were paid. From my experience, I can tell that with all of them you just buy a domain name, a hosting service and from this point, you're left on your own.
You have to learn about the whole business creation process by yourself, without any help. Not very pleasant, right?
I continued to search for the cheapest platform possible, until one day I found Wealthy Affiliate. And I know what you're probably thinking – "This guy just shamelessly pushing this thing and trying to scam people!" Well, that's very incorrect…
It's true that I'm getting paid for every person that signs up (I'm an affiliate), but this service is very far from a scam! Please sign up FOR FREE and you will find out! (And please do this through my link 😉 ).
Once you sign up, you can also get paid for every single person who joins from your website! And you can create multiple websites! They have one of the best affiliate programs in the world (highest payouts per person), and you can create your very first website and become the part of it even today!
Upon joining, you will never need to go online and look for information, their online entrepreneur courses has everything you will ever need to know about affiliate marketing! And they have an amazing forum with more than 800 000 users from all eround the world!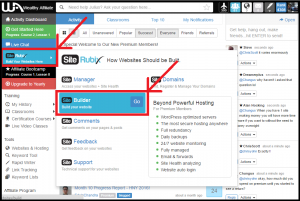 After creating your free account just mouseover the "SiteRubix" icon on the main menu, and when the secondary menu appears press "Site Builder" as shown in the picture on the right.
Once you do that you'll get to the "Build my website" page where you need to:
Choose your domain name.

Name your website.

Choose the theme (appearance) for your website.

Click "Build My Website Now".
The only reason why I suggest starting with the niche is because there's very wide selection of themes (12 for starter members and over 2000 for premium members).
When you already know your direction, it becomes easier to decide which theme suits your needs the most. You can change the theme later at any time, so don't be scared just pick something simple that you like.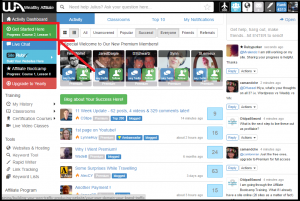 Before creating a website you probably should check out "Getting Started" training course where the owner Kyle introduces you the whole concept of affiliate marketing and the Wealthy Affiliate platform itself.
For more information please read Wealthy Affiliate Review.
Writing And Visitors
As you probably already understood, you are going to write posts about things (usually goods and services), that are relevant to your niche. Ideally, you should be able to write in plain English, but not necessarily. You can write in your own language (if you're having a big trouble with English).
You may not realize yet, but there are plenty of people who are interested in a very wide range of things even in your own country! Writing in other languages can even have some advantages, such as smaller competition and the ability to do local marketing.
Speaking about marketing, the most important thing is traffic that your website generates. There are many techniques to increase your traffic. The process of increasing the visibility of a website in a search engine's unpaid results, in order to increase its traffic is called SEO (search engine optimization).
You can also pay for advertisement, but that's another topic altogether. There are many techniques that can help your website to get a nice number of visitors. We'll discuss them in the future. But in order for these techniques to work better, you have to trigger specific keywords in your posts.
Keywords
Keywords are the words that you have to tastefully repeat in your article, so the search engines can know better what your article is about.
For example, if you're writing a post about iPhone cases, you should repeat "iPhone" and "case" from time to time. When a person types "iPhone cases" in Google, your article will appear in a higher position because it has more of these keywords.
When deciding which keywords you should trigger with your posts, the most important things you need to know are: How many pages have already triggered this keyword (competition), and how many people are searching for a particular keyword every month (searches):
As you can see 25889 people are searching for this keyword and there are about 341 pages with posts about it. This is kinda low competition but definitely not the best. That's because this keyword is not specific enough. Don't be fooled by many searches – that's not the key! The competition is what matters the most!
You can have 300 monthly searches and the competition below 200 and that would be much better than this. That's because people always tend to look at the first several pages of the search results. The closer your page is to the first page – the better.
That's what I'm talking about! That's a great keyword, you would probably be on a second or even the first page of Google if you write a review about these cases!
Keyword searches were performed through the Wealthy Affiliate keyword tool, which is also included for free. You can read about it here.
Genuine Kindness And Attentiveness
But no amount of traffic will generate money for you if you just trying to sell something to people.
When visitors come to your website they expect to find some useful and honest information on particular topics, which hopefully helps them to decide about buying something or just simply helps with certain issues.
They don't want you to just sell stuff to them! Your articles and product reviews shouldn't be written like a promotional campaign.
When writing a review mention all sides of the product or service and don't lie by no means! If a person would want to read an advertisement full of exaggerated statements and lies, he/she would simply go to the official sellers/providers page and read it.
People are already fed up with it. Your visitors expect from you something exactly the opposite – another point of view, a review from the customers, not from the seller's perspective.
If you just trying to sell, exaggerating the positive sides of a product/service and concealing the downsides, the visitors will become irritated and will never return to your website again. You need readers to return to your website in the future, comment, like, and share it on social media, so give them a reason to do so!
Be grateful to those people who came to your website and respect their time. Show your appreciation by providing them honest information! Eventually, your website will become popular and you'll get the money that you deserve.
Replying to the comments is also important. When people write comments they maybe have something unclear and want to ask something. Show that you care about them and reply to as many comments as you can. Even if they just gave you a compliment for a well-written post – just simply say thanks.
Also, search engines like that, and you will get higher rankings, more traffic, and ultimately more money! Remember – your money is in your reader's hands. If you want them to buy something based on your recommendations and get the commission for it, you have to be nice and professional!
If you have any questions or just want to share your thoughts, feel free to comment 🙂
Please share and like, if it was helpful!
-Grey